Waffle House Eggs
Are EGGstra - ordinary!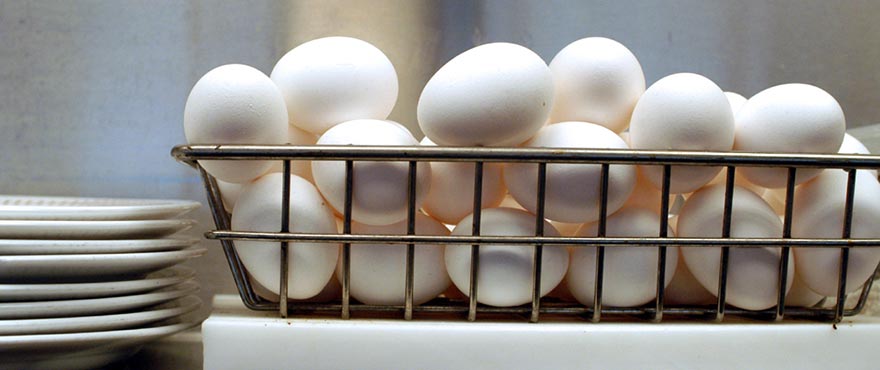 More than a dozen family-operated farms supply Waffle House restaurants with eggs. Of these, Rose Acre Farms is the largest and supplies over half of the eggs consumed at Waffle House. Even as it has grown to become one of the largest egg producers in the United States, Rose Acre Farms retains the family-owned values of excellence and integrity that characterized the business in its infancy back in the 1930s in southern Indiana.
David Rust began selling his family's eggs to corner grocery stores in the early 1940s. His reputation as a high quality, trustworthy egg supplier grew, and he started buying eggs from other farmers to meet the growing demand from city grocers. By 1954, Rust had enough business to purchase 40 acres of land and start expanding his own flocks.
As the company has continued to expand, the Rust family has taken great care to maintain the founding values of Rose Acre Farms, always growing the organization without compromising quality, food safety, or animal health.
Like the Rust family, Waffle House can trace its egg story roots back to the early 20th century in Toddle House® Restaurants. Joe Rogers Sr. learned to cook the Toddle House® omelet and believed it was perfection. In 1955 when he started Waffle House with Tom Forkner, he brought with him the knowledge of how to make a great omelet. It starts with quality farm-fresh eggs whipped in a blender in order to achieve maximum fluffiness. Our Waffle House Grill Operators know perfection continues with timing–know when to flip and when to plate.
Cheese N' Eggs, Two-Egg Breakfast and our new breakfast Hashbrown Bowls, all vary in their preparation but have in common their foundation–superior quality eggs. Our Customers agree so much so that we served over 250 MILLION eggs last year. That's EGGstraordinary!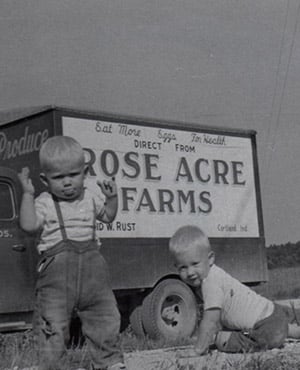 Rust family children with one of the original Rose Acre Farms delivery trucks.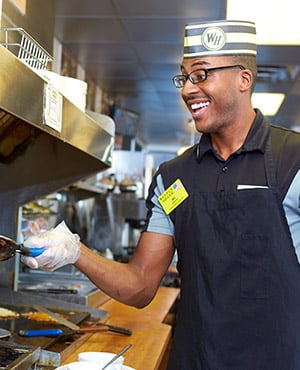 Sel, District Manager - Atlanta, GA