Careers
Whether it is as a Server, Cook, Host, Shift Supervisor or Restaurant Manager, working at Waffle House is a fulfilling, fun, and rewarding career.
"We are not in the food business; we are in the people business" – Founder Joe Rogers, Sr.
Ever since we opened our doors in 1955, Waffle House® restaurants have been a great career choice for thousands of Associates. Thank you for taking the time to learn more about Waffle House and our careers.
We hope to see you soon "Under the Yellow Sign®"!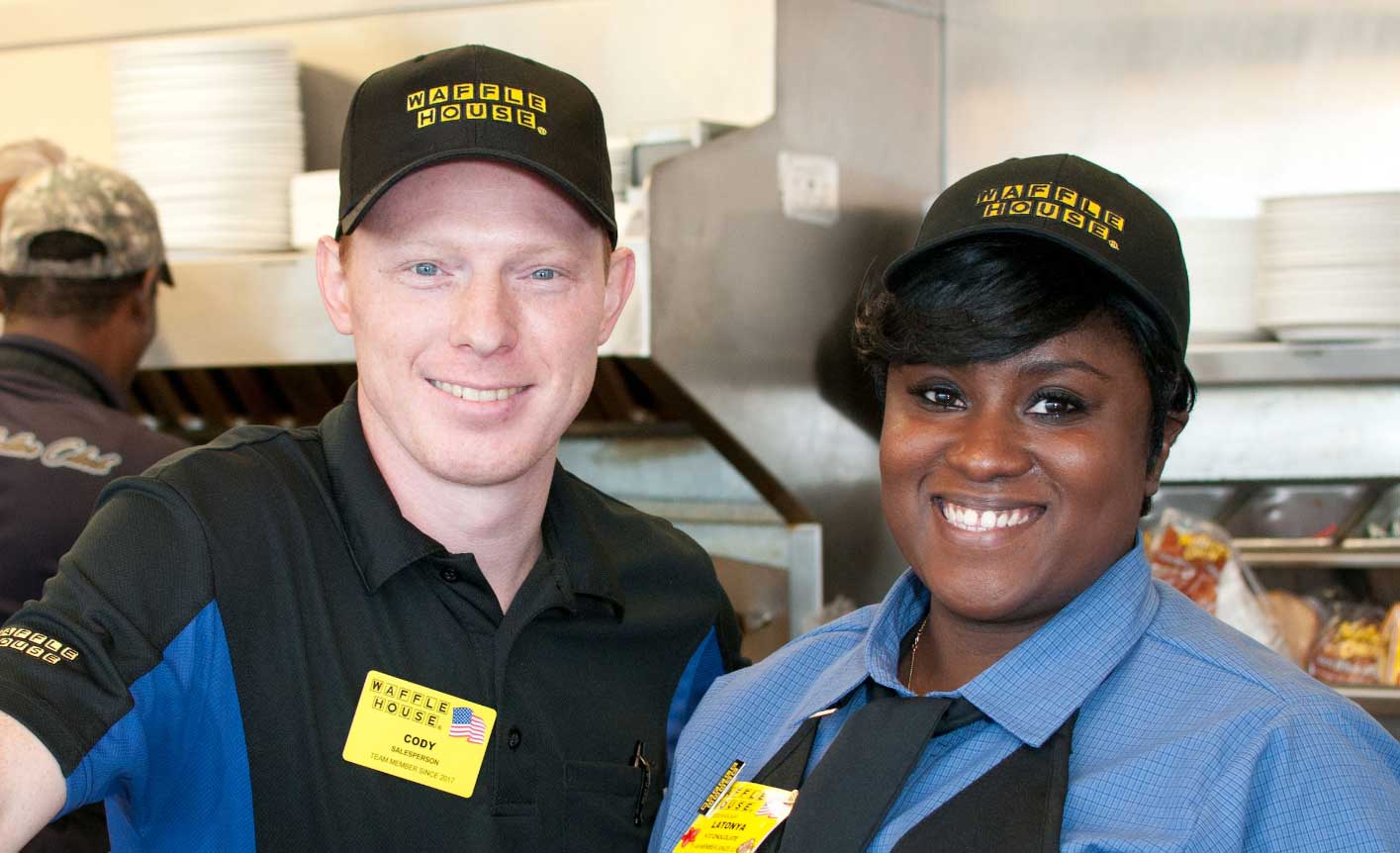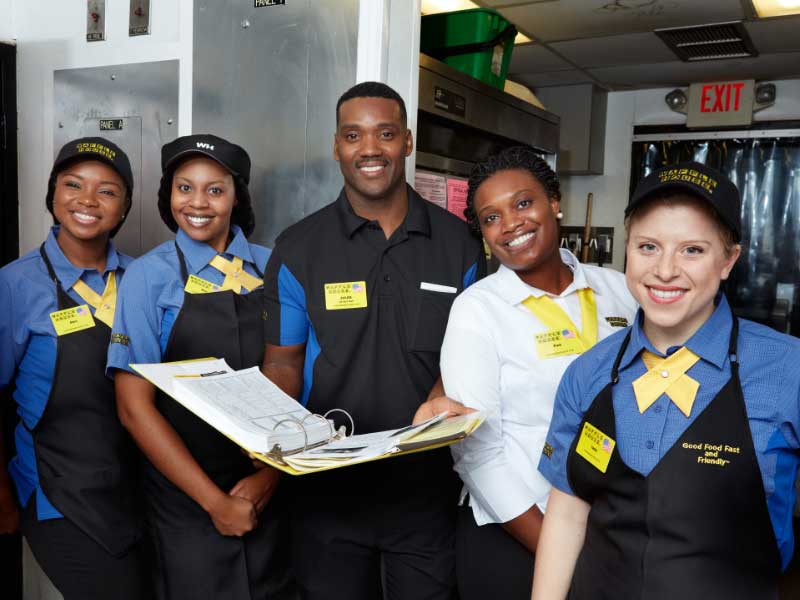 THE SAME FIRST STEP
Here at Waffle House, we believe in "Homegrown Leadership," which means every Manager in Operations begins their career as a single unit manager.
"6 Days On, 2 Days Off Guaranteed" Schedule – unmatched in restaurant industry
3-Month Training Program – to learn how to run the business
All Promotions From Within
Stock Ownership

Annual Stock Options Granted – based on % of your compensation
Career Stock Options Granted – at hire and with each promotion

Health Insurance: Medical, Dental, Vision, And Life Insurance — available for you and your family
Vacation – three 10-day vacations each year
Paid Maternity Leave – 6 Weeks (8 Weeks for C-Section)
Advancement – steady growth = promotion opportunities
Culture – fast pace, teamwork, winning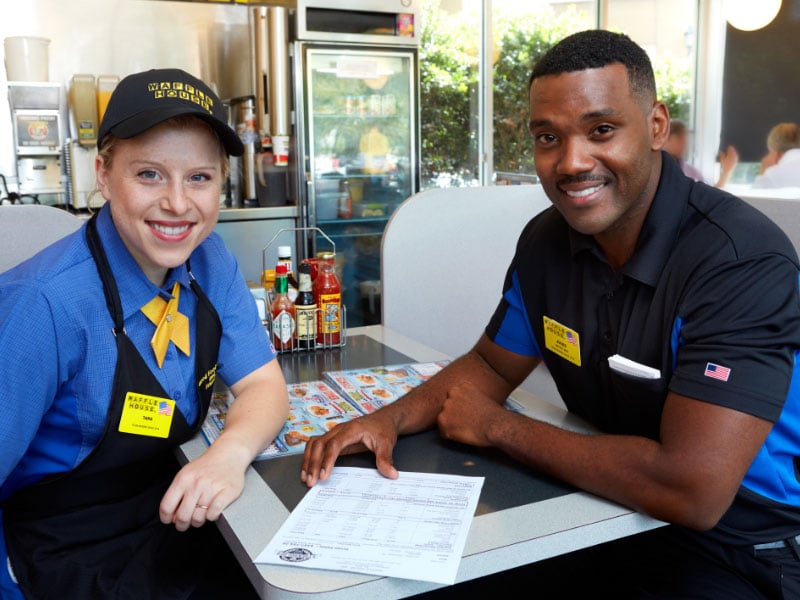 Manager Trainee
There is no restaurant simulator.  We believe in learning by doing.  On day one you'll put on the uniform, walk into a real Waffle House restaurant and start working alongside a Training Unit Manager.  You'll do everything they do until it becomes second nature.  During this period, you'll receive extra training from senior managers as well.  Here are some more details:
6-on-2-off rotating shift schedule (Work 6 days then you're off 2 days)
Begin at 6:30AM, end around 4:30PM daily
9-12 weeks management training, including:

3rd-shift rotations
Waffle House University course work
Practice management by running different restaurants before being checked into your restaurant
Trainees become familiar with team leadership, business systems, hands-on culture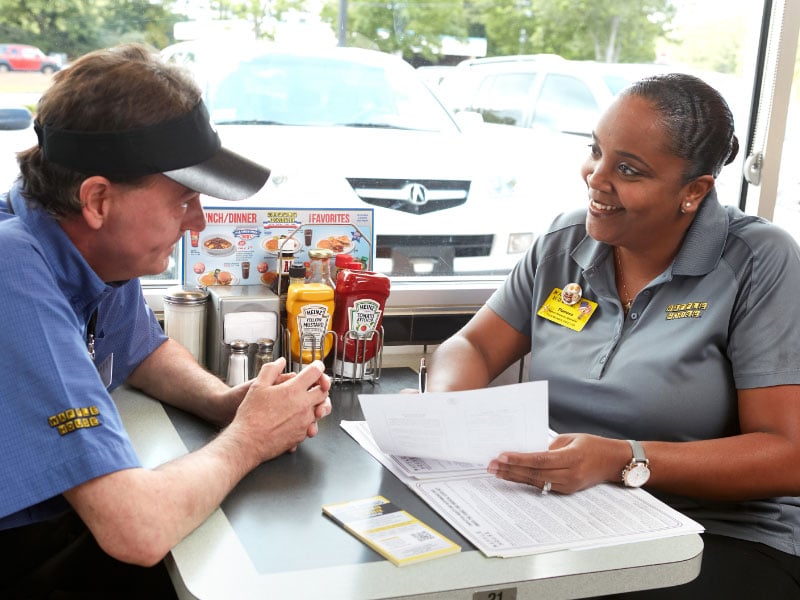 Unit Manager
As a Unit Manager, you're in charge of your own restaurant.  You'll go from learning the basics to being great at running all of the aspects of our business: managing, coaching, training, and developing your team of Associates; restaurant service and production, and building relationships with your Customers and the surrounding community.
You will start receiving performance-based compensation.  This means you determine how much you make by creating sales and how well you run your restaurant.
2022–2023 Target Compensation Range = $55,000 – $70,000
Number of Restaurants – 1
Annual Stock Options of 5% of income and Career Options of $17,500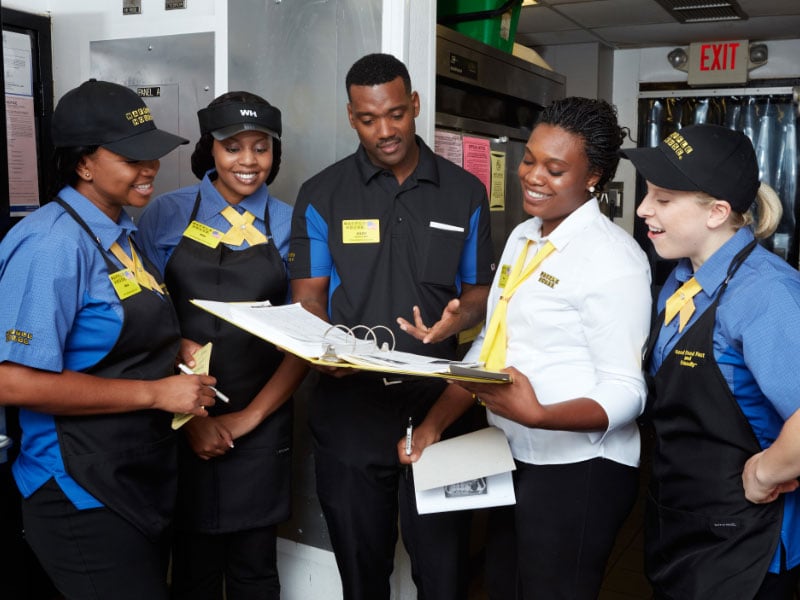 District Manager
As a District Manager you'll be responsible for the oversight of 2-3 Unit Managers and 60+ Hourly Associates.
2022–2023 Target Compensation Range - $78,000 - $108,000
Number of Restaurants - 2–3
Annual Stock Options of 5% of income and Career Options of $70,500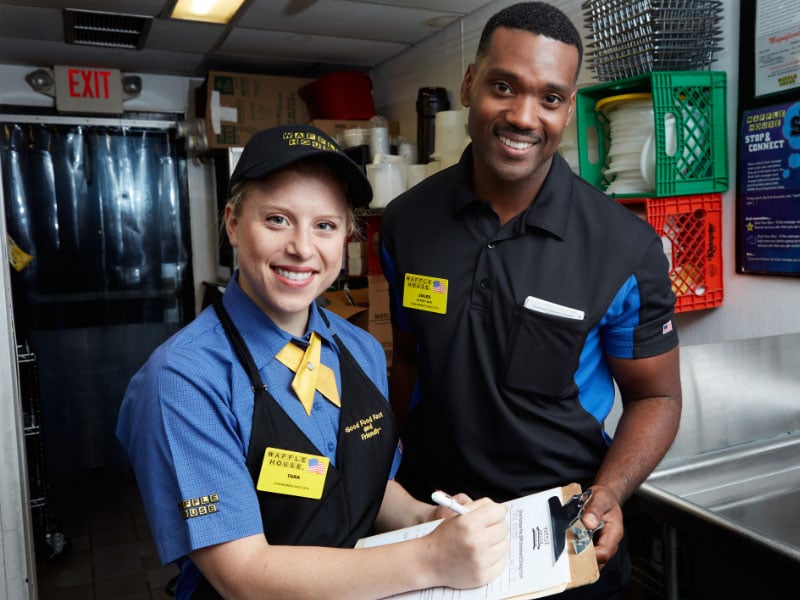 Division Manager
As Division Manager you'll oversee 2 or 3 District Managers.  Your organizational leadership role includes: operational excellence, team leadership and development, facility management, recruiting and training, and community relations.
2021–2022 Target Compensation Range - $105,000 - $125,000
Number of Restaurants- 6–9
Annual Stock Options of 5% of income and Career Options of $87,000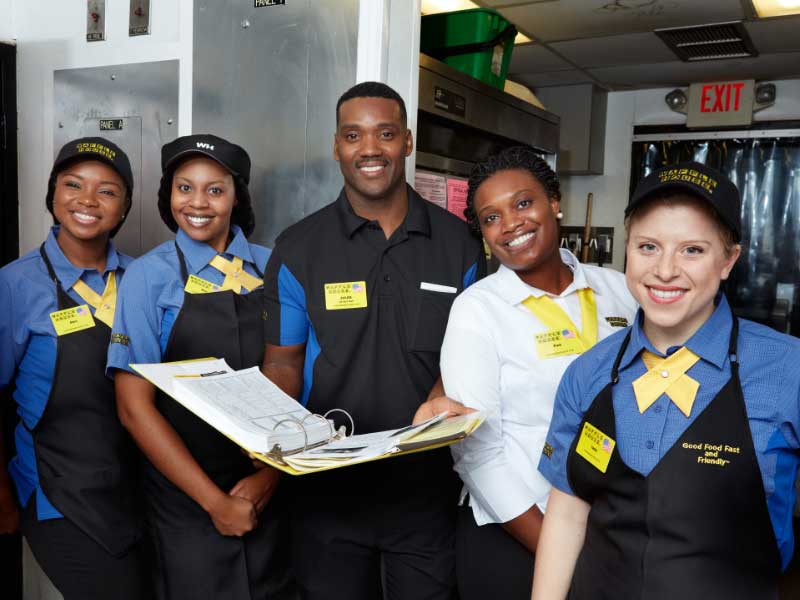 Opportunities
At Waffle House, we make sure to take care of our employees with opportunities like:
Health Insurance: Medical, Dental, Vision, And Life Insurance — available for you and your family

Full-time Associates are eligible to enroll immediately with coverage beginning 30 days later
Three different medical plans to suit your needs (essential care plan, minimum value plan, comprehensive care plan)

Flexible Schedules — full-time/part-time, day/night shifts, weekends/weekdays
Stock Ownership — eligible to purchase waffle house stock for up to 10% of your pay after 1 year of service
Paid Maternity Leave — 6 weeks (8 weeks for c-section) if eligible after 2 years of continuous service working at least 30 hours/week
Paid Time Off (PTO) — begins accruing immediately 1 hour for every 30 hours worked
Career Advancement — opportunity to advance to master or rock star grill operator, 2nd or 3rd shift supervisor, or restaurant management
Direct Deposit Or Pay Card — electronic pay every week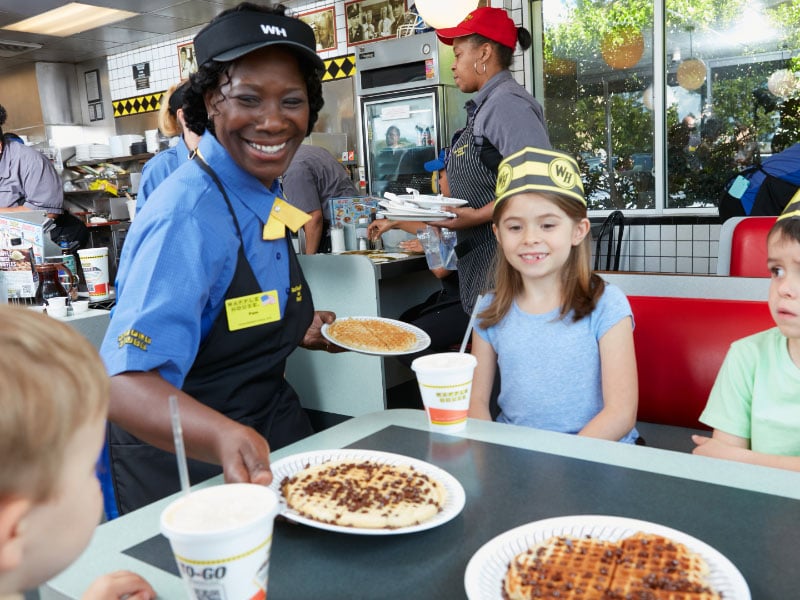 Servers
As a Server (also known as a Salesperson), you'll be working in a tip-based position that offers the training and development you need to earn well above what you might earn as a Server at other similar restaurants. Your job is all about delivering the Waffle House experience to your Customers.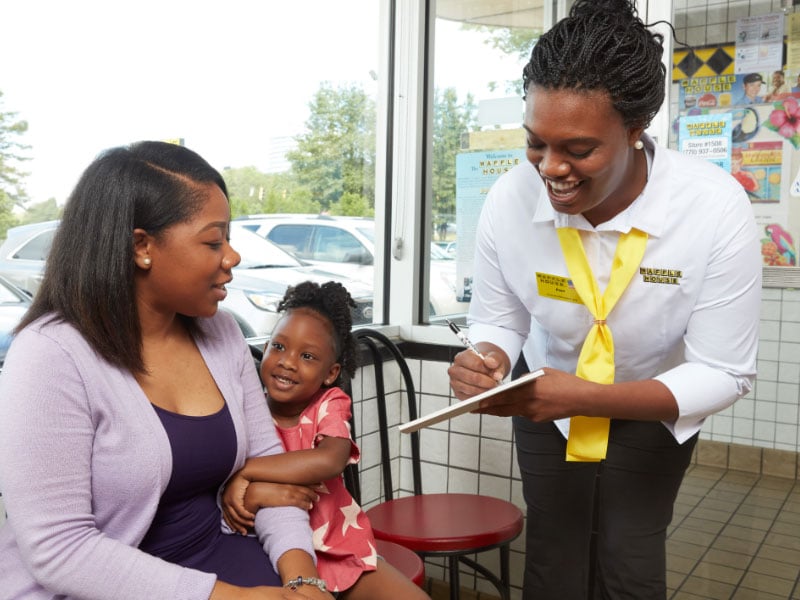 Host
At Waffle House, our Hosts and Hostesses are members of our "Door Corps".  Door Corps members greet and seat Customers and help keep the dining area clean.  You will be the first impression a Customer gets when they enter the restaurant.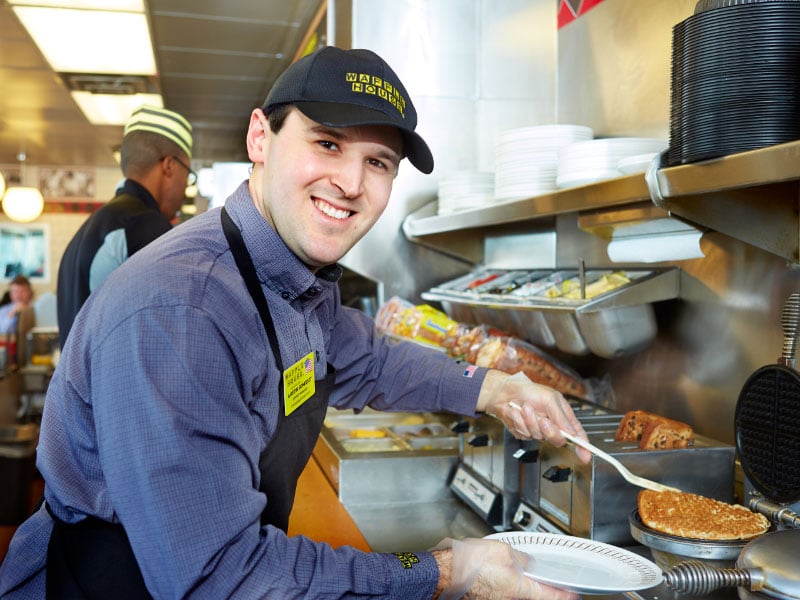 Cook
Since all of our food is cooked to order, as a Cook (also known as a Grill Operator) you are taught to prepare the orders the "Waffle House Way".  Your compensation is based on the rank you earn as a Grill Operator, Master Grill Operator or Rock Star Grill Operator.  Once certified, rates range from $10/hour up to $21/hour.  Your skill, teamwork, attitude and coach-ability all factor into the ranking process.  Production bonuses based on shift sales can also create extra earning opportunities.
Additionally, 2nd Shift Supervisor and 3rd Shift Supervisor opportunities are available to those who want additional responsibility.  With continuous training, our Grill Operators become leaders in food safety as well as service and production